---
---
Hyman Harry Zaritsky was born on 21 August 1907 in the Brooklyn (New York City) home of his parents, Max and Dora Zaritsky. He grew up in the Bronx (New York City) and graduated from the Bronx High School of Commerce. While in high school, he played roving center for a club football team called the Brownies.

Mr. Zaritsky was determined to be a poet, but his mother convinced him to become a lawyer. So he went to school for a pre-law degree. He chose West Virginia University so he could play football. When he showed up for football practice, the coach suggested he should try wrestling instead. After looking at the players in the locker room, Mr. Zaritsky decided to take the coach's advice; most football players were taller than 5'5" even then. He was captain of the freshman wrestling team, a magician in the Varsity Show, and an honor student. Unfortunately, family funds ran out so he left West Virginia and worked his way through Brooklyn Law School.

After earning his LLB, he limited his practice to closings for clients of his father, who was a realtor. The practice provided enough money and left time for writing. He gave up his practice once he started earning enough money as a lyricist.

When one of his friends bemoaned the lack of good lyrics for Broadway, Mr. Zaritsky became a lyricist.

In 1934, Mr. Zaritsky changed his last name to Zaret.

In the summer of 1939, he and a friend went to visit another friend, who was a counsellor at Camp Kee Wah on Lake Ellis in New York State. While there, Mr. Zaret met another counsellor named Shirley Goidel. He said he would marry her. She thought he was crazy and avoided him for several months. In the fall, he convinced his younger sister to be his "date" (complete with pseudonym) for a party that Shirley would attend. Hy and Shirley married 28 June 1940, and remained married until his death.

On 12 June 1945, Thomas Michael Zaret was born; Mr. Zaret wrote a parody of "One Meat Ball" as the birth announcement. On 28 July 1948, Robert Edward Zaret was born; Mr. Zaret wrote a parody of "Listen to the Green Grass Growing" as the birth announcement. Thomas died 14 June 1984 of a brain tumor; he is survived by his wife and son. Robert is pleased and proud to be reviving his dad's songs.

In 1959, Mr. Zaret bought a home from Otto Harbach after it was severely burned. That was the year The Platters' recording of "Smoke Gets in Your Eyes" (Otto Harbach lyricist, Jerome Kern composer) became a big hit.

Hy Zaret died 2 July 2007, one month shy of his 100th birthday. Many of his papers are now at The Archives of the Michael Feinstein American Songbook Initiative.

Shirley died 29 January 2015.
---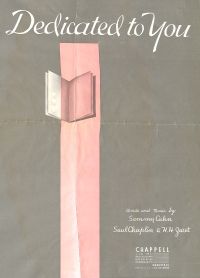 In 1935, he wrote "Dedicated to You" with Saul Chaplin and Sammy Cahn. It became his first hit and is still a perennial jazz favorite, with recordings by Sara Vaughn and Billy Eckstine, Carmen McRae, Ella Fitzgerald, Nat King Cole, Sammy Davis Jr. Listen, Tommy Dorsey, John Coltrane and Johnny Hartman, and others.
In 1941, three of Mr. Zaret's songs became hits. Ted Weems and his orchestra had a hit recording Listen of "It All Comes Back to Me Now" (written with Joan Whitney and Alex Kramer); Frank Sinatra also recorded it. Jimmy Dorsey had a hit recording Listen of "My Sister and I" (written with Joan Whitney and Alex Kramer). And Vaughn Monroe had a hit recording Listen of "There I Go" (written with Irving Weiser). In 1942, Mr. Zaret and Irving Weiser wrote "That's My Affair"; it was in Universal Pictures' film "Always a Bridesmaid", and Frank Sinatra recorded it Listen.

---
From 1948 to 1951, Mr. Zaret was a writer for the CBS radio show Sing it Again.
---
---
References and Related Links
Copyright (C) Argosy Music Corp. All Rights Reserved. Last modified 23 March 2018.